oilman
Opie Oils



Car: Seat Cupra

Joined: 21 Jul 2008
Posts: 637

Location: Sunny Cornwall / UK
| | |
| --- | --- |
| Posted: Fri Jan 06, 2017 1:15 pm | |
---
Hi all

Those of you with a Volkswagen, Audi, Seat or Skoda may be interested to know that at Opies, we are currently running a great offer on all of our VW approved oils -

15% off to be precise!

All you need to do is use the code:

VW15

. This is for a limited time only, so anybody that's looking to get their car serviced and ready for the new year may want to have a look through...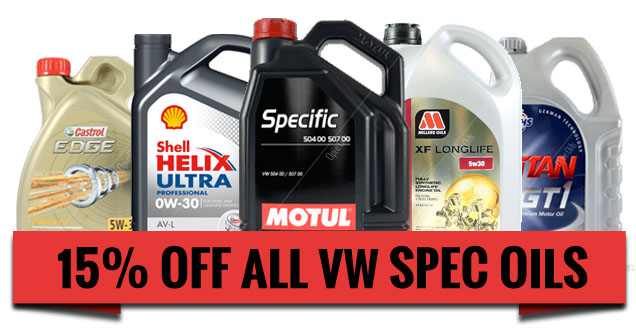 VW / Volkswagen introduced their own specifications for engine oil in the 1990s to ensure that oils met a minimum standard suitable for their vehicles. Over the years, the requirements made on oils have increased and the VW oil specifications have moved on from the early 500.00 specification to the latest 504.00 and 507.00 specifications.

VW oil specifications are now used for Audi, Skoda, Seat and Volkswagen cars.

This offer covers

ALL

of our stocked VW specification oils, which encompasses the following specs - Simply click on what your vehicle requires to be taken straight to all the oils that meet this:

- VW 500.00: For pre 1997 Volkswagen cars - one of the more basic of VW oil specs.
- VW 501.01: Again, this is for pre 1997 VWs, very similar to VW 500.00 and interchangeable with that spec.
- VW 502.00: The recommended specification for VW engines which are subject to arduous conditions unless the car is operating under variable service.
- VW 503.00: For Volkswagen petrol engines with extended service intervals (up to 30,000km or 24 months).
- VW 503.01: Specifically for VW V12 models with outputs of more than 180bhp, running with variable service intervals.
- VW 504.00: Suitable for all petrol engines with extended service intervals and engines meeting the demands of Euro IV emissions standards.
- VW 505.00: For most pre 2000 diesel cars, with or without turbochargers.
- VW 505.01: For "Pumpe-Düse" (unit injector or "PD" engines) running on fixed service intervals.
- VW 506.00: Perfect for diesel engines with variable / extended service intervals (not PD engines).
- VW 506.01: For diesel engines with variable / extended service intervals including PD engines, especially R5 or V10 Tdi engines.
- VW 507.00: Suitable for almost all VAG diesel engines from 2000 onwards with extended service intervals, unitary injector pumps and also Pumpe-Düse ("PD")

You can view them all HERE, as well as a brief description as to what these various approvals actually mean, and for what kind of engines they are designed for. These oils are suitable for a huge range of vehicles, we're sure you'll find something suitable. If you need any filters for your service, enter your vehicle details HERE to use our handy filter look up guide. You can find all of our servicing essentials HERE, from spark plugs and glow plugs to wiper blades.

Some of our most popular products can be grabbed at a real bargain with this 15% discount, such as the Mobil 1 ESP 5w-30, Castrol Edge 5w-30 LL, Fuchs Titan GT1 XTL 5w-40 and Shell Helix Ultra Professional AV-L 5w-30 all being available.

If you are unsure as to what specification you require, or just need some technical assistance then we are only a phone call away on

01209 202 944

. We're also on emails on sales@opieoils.co.uk, or if you like, you can send us a message on here. We're in the office Monday to Friday 8:30 - 5:30!

One last time, that code is:

VW15



That's all from us for today, we'll be sure to keep you in the loop about offers and discounts, you can also view our current offers HERE or sign up to our newsletter HERE.

-Oilman

_________________
Use the code

AUDISRS

and get 10% Club Discount
oilman's website: http://www.opieoils.co.uk/ - register for news and offers
email: sales@opieoils.co.uk
phone: 01209 202944